Last night I had every intention of finally checking out
Una Pizza Napoletana
, especially after hearing rumors that Pizzaiolo Anthony Mangieri is moving out to west coast (please no). After realizing the line to be seated was just as long as it was at
Artichoke
, I went for the latter.
(courtesy of Black Book Mag)
Artichoke Basille's has only been open for about a year and a half, but has drawn massive lines and loyal customers, frequently waiting half an hour for a slice. Founder Sal Basille and cousin/Pizzaiolo Francis Garcia make only four kinds of pies: Margherita, Sicilian, artichoke, and a crab bisque.
(courtesy of New York Mag)
Just look how cool these guys are.

I've been to Artichoke plenty of times before last night, but I never strayed from the decadent 'choke slice. Costing $4, one slice is a meal itself. The crust is thick - and it has to be to support the heavy layer of creamy alfredo-like sauce, spinach, and artichoke hearts. This is definitely one of my favorite 'specialty' slices in the city.

(courtesy of Me So Hungry)
This picture doesn't even do the slice justice. Go there and eat one.
Last night I had to fight the urge to order another 'choke and instead get a slice of Margherita and a slice of Sicilian. After my 30 minute wait in line, I walked out with my slices and dug into the Sicilian first.
Being a more typical NY slice joint, the (less popular) plain and square slices sit out, waiting for a reheat. This unfortunately left both of my slices pretty charred. The square was sloppy, overly oily, and very tasty; I totally scarfed it down. The sauce was zesty, slightly sweet and perfectly seasoned. It was also nice to have some basil, something you don't usually see on a Sicilian.
(courtesy of The Eaten Path)
After wolfing the Sicilian, I took on the Margherita. Comprised of the same ingredients as the square, this piece was pretty huge as far as slices go. It was just as oily as the Sicilian, but much more burned. The bottom was completely blackened (sorry for lack of my own pictures), and by the time I got to the cornicione (end crust/lip of the pizza) it was cracking apart in my hands/borderline edible.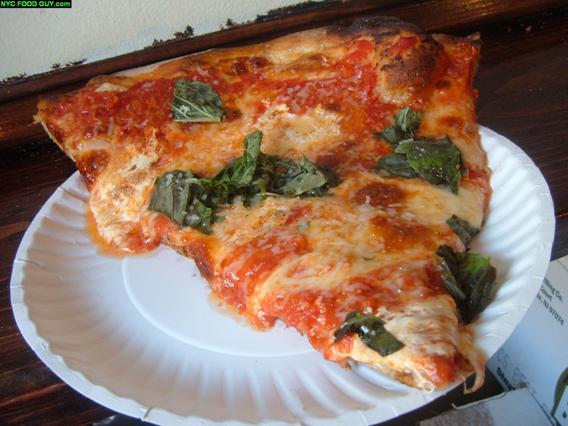 (courtesy of NY Food Guy)
The Margherita was by no means bad, just a little disappointing coming from the pizza wizards at Artichoke. All in all, I still prefer the artichoke slice best, followed by the Sicilian, and lastly the Margherita. If you haven't made the trip and paid your dues by standing in line for seemingly an eternity (time always goes slower in anticipation of a hot slice),
do it now.